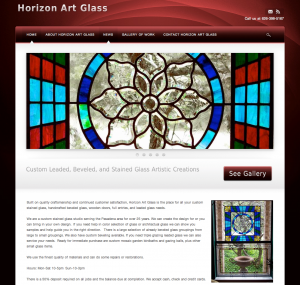 Horizon Art Glass, located in Pasadena, CA with a satellite studio in San Antonio, TX, has recently updated their website.
They are a custom stained glass studio that's been serving the Pasadena area for over 25 years. Horizon Art Glass has done custom work for Bette Midler, Dolly Parton and the Mexican performer, Luis Miguel. They do regular work for large homes, but can do any custom piece a customer can think of.
The Horizon Art Glass website has been updated to showcase their work. Gorgeous flowing slideshows is what it's about.
Check out the new HorizonArtGlass.com website.