Laura Olson Racing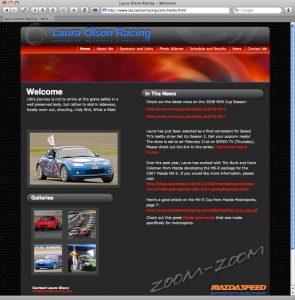 Laura Olson Racing has recently undergone a complete renovation of their website, by the Spliceguys team..
Laura Olson started racing with a 1986 Honda CRX, then a 1988 Acura RS-X. By 1999 Laura had settled in with a Mazda Miata and hasn't looked back. She continues racing Mazdas today with a 2008 Mazda MX-5 in the prestigious SCCA Playboy Mazda MX-5 Cup.
Check out her new website!