Nuforest Updates Again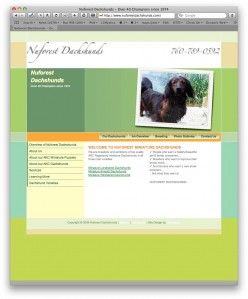 Long time customer Nuforest Dachshunds has recently updated their website again. After many years of adding more and more pages and photos to their site, it was determined that it was time for a completely new design. Something faster loading and with more modern photo galleries. Spliceguys once again built a new website for Nuforest Dachshunds.
Nuforest Dachshunds has been showing and breeding AKC Registered miniature Dachshunds in  three coat varieties since 1974 and have bred and/or owned over 40 champion Dachshunds down through the years … They have lots of experience and knowledge!
Check out the new NuforestDachshunds.com