Linda Foll Johnson, Realtor, Gets New Site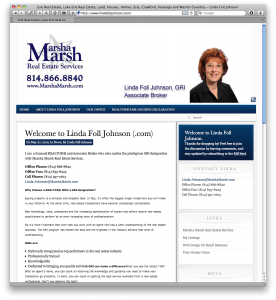 Linda Foll Johnson is a icensed REALTOR® and Associate Broker who also carries the prestigious GRI designation with Marsha Marsh Real Estate Services in Erie, PA.
Linda contacted Spliceguys to create a new personal website to promote  herself and her community in which she lives. Something easy and quick to update herself.
As a native of Erie, Linda is a champion of all the wonderful things Northwest Pennsylvania has to offer from a wide range of real estate opportunities and reasonably priced homes to picturesque landscapes and an overall wonderful place to raise a family.
Linda is a strong believer in being involved in the community in which you live. Linda is also an active member of the Greater Erie Board of Realtors (GEBOR) where she has served on the Board of Directors and Finance and Education Committees. She also volunteers her time with various non-profit organizations and am a big supporter of the arts in Erie.
Linda wanted a site that she could quickly update to let people know about new community happenings, as well as where she could quickly post new listings. Her new site also updates her Facebook page whenever she makes an update.
Visit her new website at www.lindafolljohnson.com and have a look!