Brian
Web Design, Video Editing, Photo Restoration, DVD Authoring, Video Format Conversion
Home page: http://www.spliceguys.com
Posts by Brian

San Antonio Bridal Jewelry has a gorgeous new website.  San Antonio Bridal Jewelry carries a full line of Bridal Jewelry, including Tiaras, Necklaces, Bracelets Earring Sets and more. They are, as the name implies in San Antonio, TX.
Check out the new site.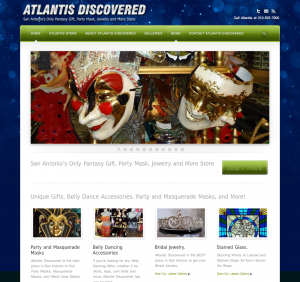 Atlantis Discovered is a store in San Antonio that specialized in being different. Their site is brightly colored, their store is overwhelming to the senses. It's a world to discover and something everyone traveling to San Antonio should see.
And excerpt of a customers review:
"This store is terrifically crazy and weird, like a mix of a fun house and a costume shop and an art gallery. The first thing that hits you upon entering Atlantis Discovered is the smell: pure, unadulterated incense, baby. Then your eyes gradually become accustomed to the dark lit store and attempt to make sense of their surroundings."
Wild as it was, it needs to keep up with the times. Atlantis now has a twitter account, and a site that shows random sliding images of new products. Customers are wild about it.
Check it out, at www.atlantis-discovered.com

Horizon Art Glass, located in Pasadena, CA with a satellite studio in San Antonio, TX, has recently updated their website.
They are a custom stained glass studio that's been serving the Pasadena area for over 25 years. Horizon Art Glass has done custom work for Bette Midler, Dolly Parton and the Mexican performer, Luis Miguel. They do regular work for large homes, but can do any custom piece a customer can think of.
The Horizon Art Glass website has been updated to showcase their work. Gorgeous flowing slideshows is what it's about.
Check out the new HorizonArtGlass.com website.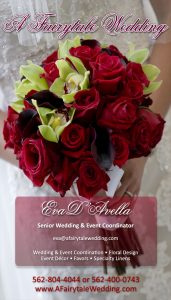 A Fairytale Wedding has recently contacted Spliceguys to redo their company's printed media. Starting with new business cards for their staff. Spliceguys will also be working on flyers, banners and other media soon.
Check out the gorgeous new business card. You can view more in our business card gallery.

AWR Racing, one of Spliceguys' oldest customer, recently had their store updated. AWR had been using a customized version of OSCommerce that hadn't been updated in years. While the store was still working, it was definitely showing it's age. Only one image per product was allowed. There was no way to send product feeds directly to Google. There was no way for customers to comment about products. Videos could not be easily embedded. The Search function was old and creaky.
All this is fixed with AWR's new implementation of a BigCommerce store. Sales have skyrocketed with the new store. AWR's customers have started to provide comments about the products, which will help future customers to decide on whether they should buy.
AWR also took this opportunity to get the design for their site, store and news blog all in sync. Stop by the new AWR Store and take a peek.

Linda Foll Johnson is a icensed REALTOR® and Associate Broker who also carries the prestigious GRI designation with Marsha Marsh Real Estate Services in Erie, PA.
Linda contacted Spliceguys to create a new personal website to promote  herself and her community in which she lives. Something easy and quick to update herself.
As a native of Erie, Linda is a champion of all the wonderful things Northwest Pennsylvania has to offer from a wide range of real estate opportunities and reasonably priced homes to picturesque landscapes and an overall wonderful place to raise a family. (more…)

Elegant Event Rentals in Downey, CA has chosen Spliceguys to build their new site. This site is a combination of html, css and flash and offers a jazzy background soundtrack.
Elegant Event Rentals is a full service event rental company in the Los Angeles area that takes pride in being a total rental resource for all your special event needs including chairs, tables, linens, tents, dance floors, china, catering equipment, stages, chocolate fountains, bartenders, event managers and more.
Check out their new site at www.eleganteventrentals.com
Spliceguys has recently completed a new online store for Off Line Racing. Off Line Racing specializes in performance parts for the racing industry, but also caters to people with modified street cars.
Offering a variety of parts and accessories, the Off Line Racing website can now serve their customers 24 hours a day.
The online store offers Google and Yahoo integration, and can suggest commonly ordered items to customers, increasing Off Line's revenues.
Stop by and see the new store. http://www.offlineracing.com

After nearly two years, Laura Olson Racing.com has been fully updated and refreshed by the Spliceguys.com team.
The new site offers a familiar look to Laura Olson's older site. But, after only a few minutes on her new site, most readers find that the site is easier on the eyes, quicker to find necessary information, and fully interactive for viewers to participate in discussions with their favorite race car driver.
Check out the completely new LauraOlsonRacing.com website.
Spliceguys Web Design
The website design business for small businesses.
Spliceguys Web Design is an independent team of talented web designers in Erie, PA, that specializes in developing websites for small to mid-size businesses and individuals.
In addition to designing websites and blogs, Spliceguys Web Design also provide services in editing video,  email marketing, Macintosh setup, software installation and support, Microsoft Access and SQL Server Database creation, administration and Crystal Reports development.
Yes, it's a lot, but the Spliceguys Web Design staff is multi-talented. Spliceguys Web Design does everything for our customers as if we were doing it for ourselves.
Brian's RSS Feed